A Richardson Inlet Air Filtration Systems Boost Gas Turbine Output Effectively, Efficiently & Economically.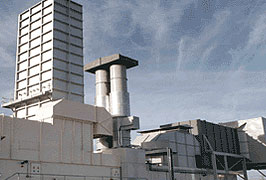 Power Generation In both developing countries and mature economies around the world, electricity is the fastest growing form of energy consumption. This presents a challenge to power generation operators to effectively, yet efficiently, increase output to meet a growing need. That's why operators turn to Richardson Filters more than anyone else. As the unrivaled global leader in gas turbine power augmentation using inlet air filtration - a technology that Richardson pioneered - many large electric power utilities and independent power producers have adopted Richardson systems for their entire gas turbine fleet including both old and new gas turbines.

A Richardson system is an unbeatable way to improve the output of existing power generation plants. In new plants, you can reduce the cost per kilowatt by 10% or more simply by adding a Richardson System to the project.